The electrical transfer speeds of compound semiconductors are faster than silicon. In addition, they have an excellent characteristics, including high-speed signal processing and low voltage. As a key technology, they have matured enough to be used widely throughout our life. We have a product lineup that allows advanced and stable polishing performance such as high flatness, low defectivity, and high productivity.
Compound wafers pad
Suba™ Series
Suba™ series are felt based pad and designed for high removal rate, better flatness and low defectivity in compound wafers sush as GaAs, InP, LiTaO3(LT) and LiNbO3(LN).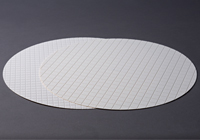 MH™ Series / EXTERION™ Series
MH™ series are made of polyurethane using our advanced foaming control technique. This pad is designed to enable better flatness and long pad life time. EXTERION™ Pad is the next generation product line of MH™ that contributes better surface quality of leading edge wafer process.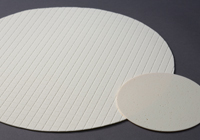 Supreme™ Series
Supreme™ series have a two-layer pad with a layer of polyurethane foam. They can be used for compound polishing, such as sapphire and SiC substrates. They offer high uniformity, low defects, and generally excellent polishing characteristics while maintaining flatness.
Compound wafers slurry